Form Captcha is exclusively designed to prevent fake machine submit. After you activate it, the submitter has to enter the correct graphic-based captcha to submit, which could effectively reduce abnormal submit and present a truthful vote statistic.
Why should I use Captcha?
Online voting is common in many occasions, which spreads rapidly and involves vastly. Meanwhile it's tends to be sabotaged by technical methods such as machine vote.
Machine vote could severely affect the authenticity of a voting event. Tons of invalid fake votes not only make it unfair for legit participants but also undermine the credibility of the organizer. What's worse, the swarming visiting request could crash the voting form so that normal submitters are unable to vote.
In order to raise the bar for faking votes, it's quite necessary to activate Captcha for your form if you are running an event that requires authentic statistics.
How do I buy and use this feature?
There are two kinds of purchase: "Current Form only" and "All Forms & lifetime". You can select one based on your need. The first one suits once-for-a-while voting form. The latter suits those who holds voting events more frequently.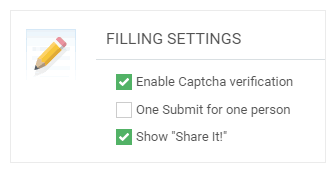 After purchase, you can edit the form in the Veteran Mode and check "Enable Captcha verification" in Global Settings – FILLING SETTINGS if you need it. You can also click the"
", find the "Form Captcha" gadget and open/close it.
After it's activated, when a submitter fill out the form and click the submit button, an image verification code will show up. The submitter has to recognize the characters (case-insensitive) in the image, enter them correctly and click the Confirm button. Only then can it be submitted. If the characters are illegible, you can click the image to refresh them. Check the demo Form>>
A Few Tips For Preventing Machine Vote
Apart from "Form Captcha", there are some other features that could make it more difficult to fake votes. You can activate these features as you need:
FILLING SETTINGS – One Submit for one person: A cookie-based technique that each device could only submit once. It's the most common vote limit method.
VISITING SETTINGS – Fill the form only in Wechat: It limit the visiting environment to only in Wechat. It works better with other limiting settings to prevent machine vote.
Form Widget FILLING SETTINGS – No duplicates: Text-based widgets such as Text and Name can be enabled with "No duplicates" under Veteran mode to make sure there would be only one submit under one name, one email or one mobile phone.
Mobile Phone – Send Verification Code via SMS: It would send to PIN code to make sure the phone number is real. Verification Code consumes message Quota so please remember to replenish.